It's no secret that you can get all the benefits of night vision for a more reasonable price by using an NV night vision monocular instead of binoculars. Our article will consider the very best representatives of its class and discuss the benefits of using night vision monoculars.
Best is a very abstract concept. We will consider representatives of night vision monocular in terms of functionality, optical parameters, applications, and price categories.
1
AGM PVS14-OMEGA NL2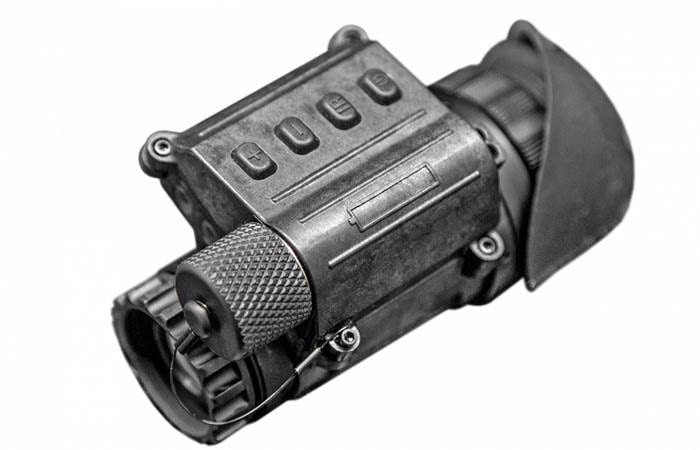 The AGM PVS14-OMEGA NL2 is a Gen2 + night vision monocular, which is already quite impressive. The model can be equipped with a Gen3 tube for the most discerning connoisseurs. Gen2 + features clear, high-quality, and crisp images in deplorable lighting conditions. The 19mm lens and 51-degree wide angle of view allow for the broadest possible scene coverage. The OMEGA NL2 is one of the lightest 8.4 oz and compact 4.0 x 2.5 x 2.7 "monocular on the market. These qualities make it highly desirable to wear a helmet on the head or the neck. New lightweight MIL-SPEC optics provide a focusing range from 0.25m to infinity. The battery offers 50 hours of operation. A temperature range of -60 ° F to 120 ° F and an ultra-rugged housing allows it to be used in the harshest conditions throughout the United States. Additional functions: blocking bright light, adjusting the level of illumination, automatic shutdown, adjusting the diopter, make the user comfortable. OMEGA NL2 is one of the highest quality devices that meet military standards but at a very reasonable price.
2
Armasight Spark CORE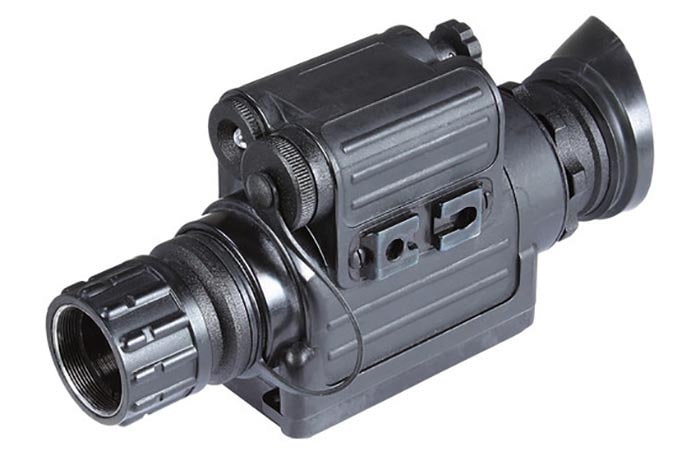 If your budget is somewhat limited, but you are striving for a practical and durable item, you should look towards the Armasight Spark CORE. This Gen 1 monocular requires bright nights or IR illumination. The manufacturer solved this problem with the CORE tube amplifier. This lamp allows the device to perform better than other 1st generation monocular. The monocular can be used on its own, attached to a helmet, or behind a telescopic sight. It weighs 14.4 ounces, slightly more than the previous monocular, but its sub- $ 500 price tag makes it more affordable for most buyers. In other parameters: viewing angle 30 degrees, zoom 1x, protection from moisture and shock; it is standard.
3
ATN PVS14-3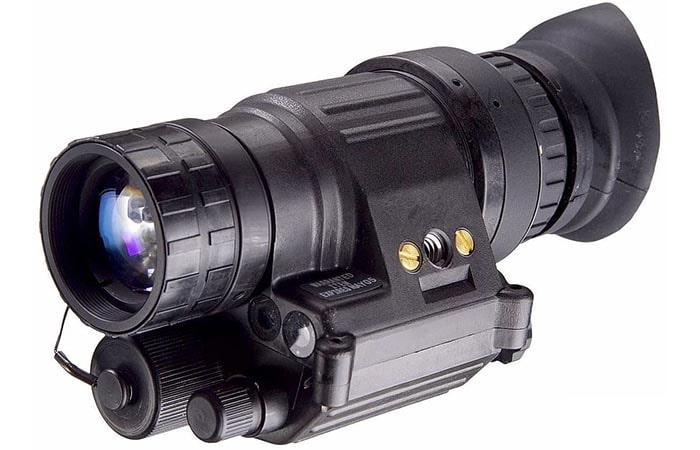 The ATN PVS14 Gen 3 is a durable, lightweight night vision monocular designed for demanding users. It can be used as a handheld monocular, head-mounted, or helmet-mounted for hands-free use. It can connect to most camcorder models. Interesting parameters: large viewing angle 40 g, lenses 27 mm, 50 hours of continuous operation, water-resistant, lightweight 0.78 pounds, and compact dimensions 114 mm x 51 mm x 57 mm. The PVS14-3 operates over a wide temperature window from -60 ° F to 120 ° F. Other parameters are similar to this high-end device. This night vision monocular is worthy of use in all areas without restriction. Its price hovers around $ 3000. The manufacturer provides a 2-year warranty.
4
Night Owl Optics M4X Marine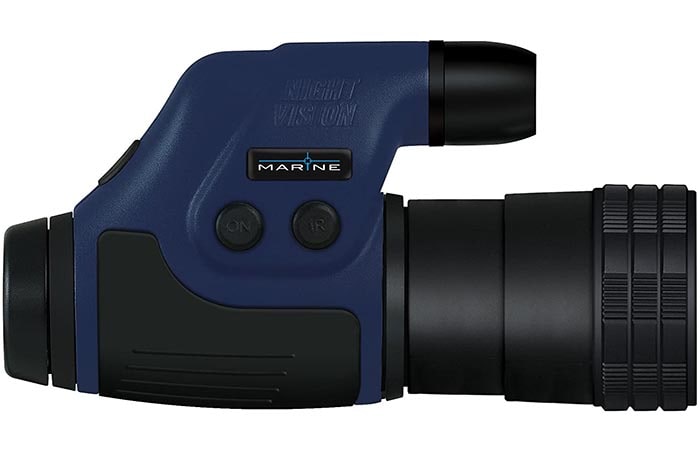 For those who do not need additional functions and the highest image quality, that is, for solving everyday tasks, we can recommend the best night vision monocular in a budget price category. Its price is slightly over $ 200, which is quite acceptable for most citizens. The Night Owl Optics waterproof and fully submersible marine monocular meets the IP67 specification. This means it can withstand a zo min dive to a depth of 3 feet. But when immersed in water, it will not drown but will float on the surface. This quality allows you to use it in sea voyages, hunting near the coast, fishing, in all types of water competitions, as well as in places with high humidity or terrible weather conditions. Note that this is a 1st generation IR monocular capable of locating a target over an area of 56 feet * 200 feet. It has a 4x zoom and a viewing angle of 14 degrees, which is enough for a monocular in its price category. It measures 9 "x 4.75" x 3 "and weighs 0.91 pounds to fit comfortably in a backpack or travel bag. Battery life is 45 to 100 hours, depending on the use of the IR flashlight.
5
Bushnell Equinox Z Night Vision Monocular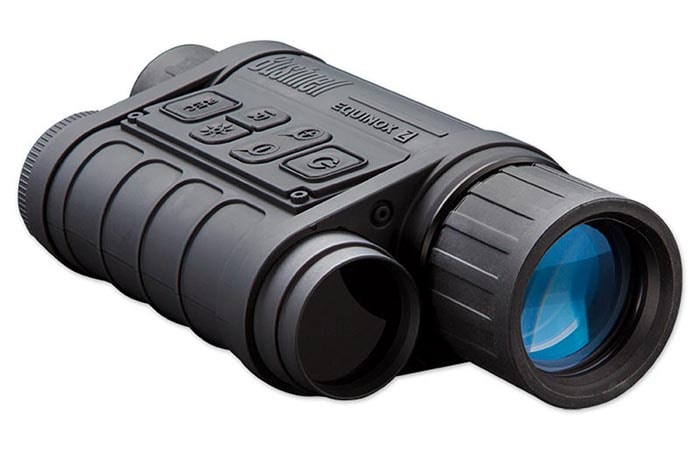 Another monocular for about $ 300. This monocular can be used as a regular monocular during the day, and at night with the IR flash on, it turns into a night vision monocular. It measures 7.85 x 2.5 x 3.9 inches and weighs 1.69 pounds. When illuminated, it can provide a detection range of up to 997.4 feet. There is a video output option. Video and photo recording is carried out on micro SD memory cards up to 32 GB (sold separately). With the help of the Picatinny rail, it can be attached to a weapon or mounted on a tripod. This monocular can be used for sports games, hunting, camping, travel. The waterproof housing allows for use near the coast and in the rain. Overall, they are reliable entertainment optics at an affordable price.
6
Solomark Night Vision Monocular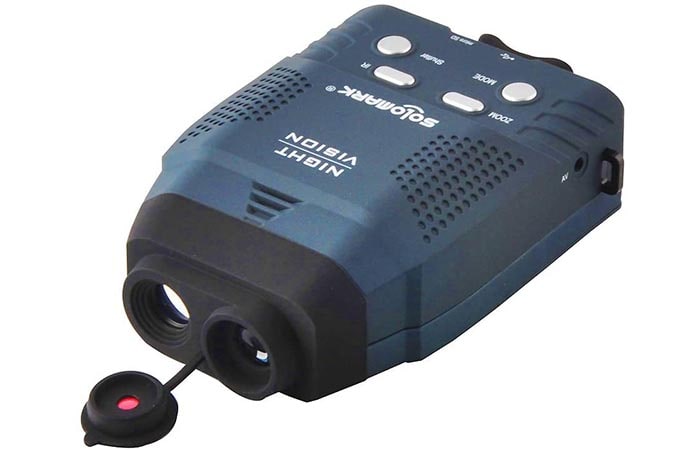 This is a budget night vision monocular designed for hunting, wildlife watching, camping, cave exploration, bird watching, and sports games. Compact size 6 x 5 x 5 inches, lightweight 12 ounces, the rubberized case with simple and convenient operation allows you to take it with you without the risk of weighing your luggage and ensure comfortable use, even with gloves. The built-in color LCD screen with a 7-level LED IR illuminator can see in the dark up to 328 feet and allows you to adjust the brightness of the image. It comes with a 1 GB micro SD card, but the card can be swapped for a larger one up to 32 GB. Battery life – 5 hours. The monocular takes pictures and records videos in size 640 * 480. It is possible to download them to a computer for viewing at home. Among the shortcomings, we single out the lack of image clarity at high magnification, a slight viewing angle, and the absence of a date on the video materials.
7
Bestguarder 6x50mm HD Digital Night Vision Monocular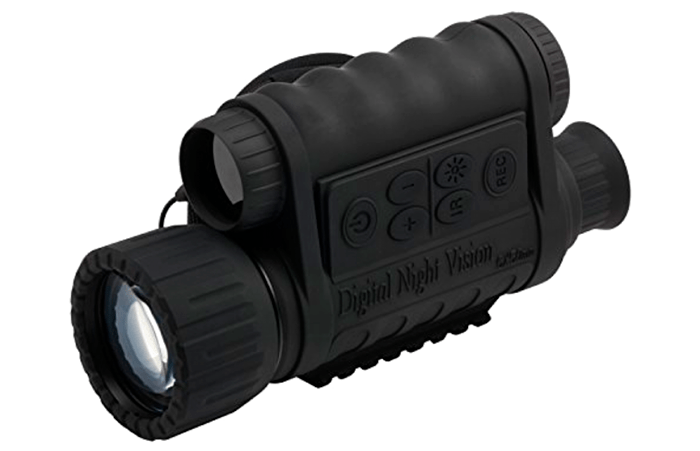 This is a budget night vision monocular designed for travel, nature observation, hunting, and property protection in the countryside. A characteristic feature of this monocular is a long detection range of up to 1150 feet when illuminated with an IR flashlight. This monocular can take photos in HD quality (2592 * 1944pixels – 640 * 480pixels) and videos (1280 * 720pixels / 640 * 480pixels) with sound on a 32GB memory card. The 1.5-inch TFT screen has a seven-language setting menu, easy to use. Bestguarder 6x50mm HD is IPX4 waterproof. Among the shortcomings, we note the short battery life.
What Are Best Night Vision Monocular Good For?
Night vision monocular can save you a lot of budget and space in your backpack. Because there is only one lens, the cost of the device falls, but its optical parameters are preserved. As a rule, lenses weigh a lot and make the product heavier. In this case, when weight is critical, for example, on long hiking trips, night vision monoculars weigh significantly less than their fellow binoculars.
Night vision monocular is convenient to use in confined spaces for short-term observation. If there is a possibility of installation on a tripod and there is wireless control, then it can be used for covert observation of shy or nocturnal animals.
By choosing weight over convenience, the monocular will reduce the strain on the user's neck compared to night vision binoculars. In addition, one free eye makes it easier to adapt when moving from absolute darkness to the illuminated monocular monitor.
The compact size of the monocular allows you to keep it in your jacket pocket and use it almost instantly. In addition to wearing it on a helmet, a unique headboard, a strap for binoculars, the monocular can be attached to a weapon and turn a regular sight into a night vision sight.
Otherwise, monocular are in no way inferior to binoculars. They record videos, take photos, can support streaming video.
Before you buy a monocular, think about how you are going to use it. Hunters will want to attach it to their helmets for hands-free or weaponry. Monoculars of the 2nd generation and higher with long battery life are suitable for them.
An inexpensive 1st generation night vision monocular with a good illumination with an IR flashlight may well be enough for observing nature, protecting the house, and playing sports.
For tactical purposes, you should pay attention to generation 2 and up. Good optics and a long detection range are a plus. It is worth paying attention to the presence of wireless channels for transmitting information, good protection of the case, increased battery capacity, wide temperature operating conditions, built-in memory card, and the company of additional functions.
In short, the best night vision monocular for your conditions and goals.
We tried to convey to you as much information as possible that will help you navigate when buying a night vision monocular. We are confident that with the purchase of a night vision monocular, your possibilities will expand. You will get extra safety, provide clear vision at night, possibly acquire a series of trophies and a lot of positive impressions from night adventures.