Many of us have been using thermal imaging binoculars for a long time and have our favorites among them. But some have faced the choice of their first thermal imaging binoculars. Our article will help you understand the complex world of numbers and parameters of thermal imaging binoculars. Especially for you, we have selected a line of the best thermal imaging binoculars, where we will point out the strengths of the equipment and help you make the right choice. We will also consider the most common uses of thermal imaging binoculars.
Best Thermal Binoculars
1
AGM COBRA TB50-336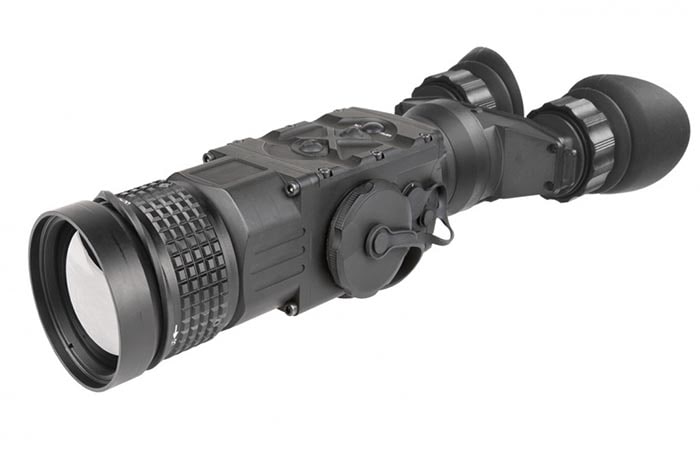 AGM COBRA TB50-336 binoculars with excellent optical performance, exceptional image quality, body protection, and fair price caught our attention. It is technically correct to call this device a Bi-ocular as it has two eyepieces and one objective. Because the objective lens is one, it became possible to reduce the price and weight of the product. At the same time, the image quality did not suffer at all. COBRA has a 50mm lens, allowing maximum area coverage and enough data to display events in detail. The information is read by a FLIR Tau 2 temperature sensor in 17-micron increments and converted into a video, available in 13 color palettes. There is a diopter adjustment. With such a variety of settings for individual vision characteristics, you will not have any problems. A refresh rate of 50 Hz and a resolution of 600×800 allows you to monitor in real-time and quickly respond to what is happening.
The binoculars start working in just three seconds in all weather conditions, with an operating temperature range of -40 C to + 50 C. The COBRA TB50-336 has an excellent detection range from 5m to infinity, making it suitable for use in law enforcement agencies, police, rescue activities, and hunting. If you want to consider the subject in more detail, you can zoom from 1x to 8x.
Video with PAL (768×574 pixels) / NTSC (640×480 pixels) resolution can be transferred via Wi-Fi to your phone or shared with loved ones. It is possible to mount the binoculars on a tripod and control them remotely from a comfortable shelter, observing the events on a phone or laptop screen. In addition, the binoculars can be attached to the weapon as a thermal imaging sight.
With Wi-Fi on, the batteries hold a charge for four hours and save for about 12 hours. The operating time can be extended by using a spare set of batteries. Feel free to use the COBRA to its fullest in the harshest conditions as it is made from aircraft-grade aluminum and is waterproof.
AGM COBRA TB50-336 binoculars are versatile thermal imaging binoculars that will demand both by professionals and advanced amateurs. Note the simple interface and ergonomic one-handed operation, lightweight of the device, and a 3-year warranty. The areas of application are not limited by anything. Its characteristics allow it to be used everywhere, from the needs of the sea service to hunting in the mountains. This workhorse will take it all.
2
ATN BinoX-HD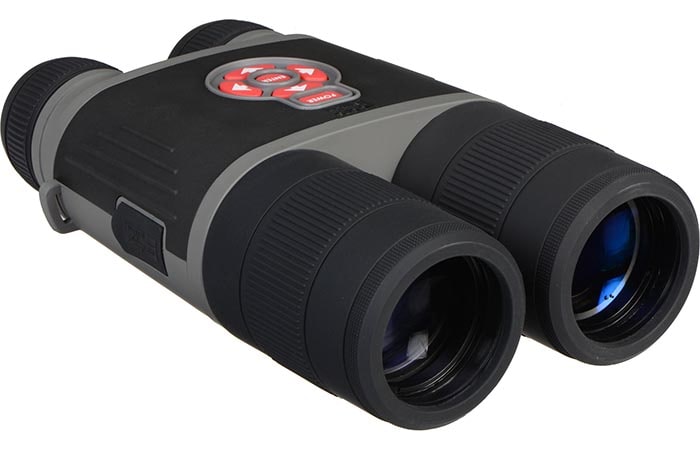 These are classic thermal imaging binoculars at a reasonable price. It has several modifications with different optics. Therefore, if desired, you can always go up to achieve the desired image quality. But, higher resolution and a more sensitive thermal sensor will affect the increase in the purchase budget. With a resolution of 384 x 288, the basic configuration has a good magnification of 4-16x, the presence of a gyroscope, rangefinder, compass, and Wi-Fi. The detection range does not exceed 1500m. The rangefinder will help determine the target's distance since a specific thermal image requires practice to correctly perceive the depth of space. The compass will allow you to accurately determine the desired direction, even on the most impenetrable night. The gyroscope will help stabilize Full HD video at 30Hz when walking or in adverse conditions. BinoX can be mounted on a tripod and remotely controlled from a smartphone via iOS or Android apps. Among the advantages, we note up to 18 hours of use in economy mode, GPS Geotag, smooth adjustment of magnification. Among the shortcomings, we report the numerous additional functions that take time to adapt and drain the battery. ATN BinoX-HD can be successfully used for hunting, observing wildlife, sports games.
3
Green State BF6060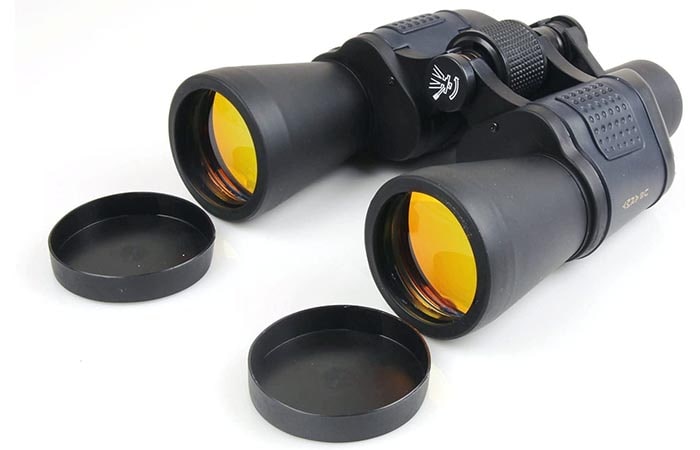 The Green State BF6060 features a 50mm wide-angle lens with an anti-reflective coating to cover a large landscape area. The optical parameters of these binoculars are designed for the non-professional user, and therefore the video and photo quality is not the highest. Nevertheless, given its low cost, this is an excellent solution for beginners. Its lightweight and durable rubberized body will withstand any sporting event, nature observation, camping, travel. Among the shortcomings, we note the presence of a scalable mesh that cannot be removed.
4
FLIR Command 336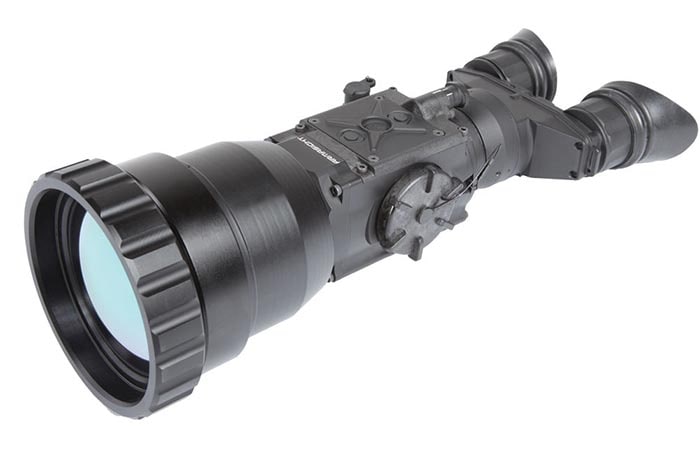 FLIR Command 336 is produced by one of the largest thermal imaging equipment manufacturers. As a rule, he gives a 10-year warranty on his thermal detectors and a 3-year warranty on his products. Agree, this is good news. The binoculars work based on the FLIR Tau 2 detector, 17 microns. The Command 336 is a bi-ocular designed for observation over significant distances, from 5 m to infinity. Digital zoom from 1x to 4x allows you to see the details of the target. The 50mm lens will enable you to get a wide-angle image. The 336 model can be supplied in three versions, with 50, 75, and 100mm lenses.
Everyone will be able to choose what they need to suit their taste and budget. The frame refresh rate of 30 Hz contributes to a timely response to events in front of the operator. AMOLED screen with 800×600 resolution gives good picture quality. An angle of 7.8 x 5.9 ° allows you to cover events at the leading edge in total and a distance – in parts. Battery life up to 4 hours can be extended by using an external power supply. The binoculars' body is made of aluminum alloy, covered with a rubber layer for the comfort of use and protection of equipment. The waterproof, rugged case, together with a wide operating temperature range, allows the FLIR 336 to be used throughout the United States in all weather conditions. Lightweight at 1.8 pounds for comfortable handling. The presence of Wi-Fi will enable you to remotely control the bi-ocular or transfer data to your phone, computer, laptop. If necessary, the micro SD memory card will store video or photographic materials. Note that the use of larger lens diameters will increase the weight of the equipment and affect its price. The base model with a 50mm lens is roughly the same price range as the AGM COBRA TB50-336. But COBRA has a slightly higher refresh rate, which gives a faster response to an event, and a larger zoom. These two models have a lot of similar parameters, and the choice between these two can only be based on your sense of comfort. The FLIR 336 team will perform well in search and rescue, law enforcement, hunting, sporting events, and wildlife exploration.
What Are Best Thermal Binoculars Good For?
The peculiarity of all thermal binoculars is that they are versatile. They are independent of light. The thermal imager can work perfectly in pitch darkness and on a snowy plain flooded with sun glare. He is color blind. His area of interest is temperature. Therefore, he sees what is hidden from our vision by disguise, provided that his temperature differs from the background. For example, let's take animals with environmental coloration. Even the most skilled among them emit heat, which thermal imaging binoculars will undoubtedly detect. This is especially noticeable in winter, with a sharp cooling of the general background. Warm objects glow like a bonfire on the thermal imager screen.
Hunting
Based on the above, thermal imaging binoculars will be an undeniable advantage when hunting. Moreover, the binoculars will catch the faint heat traces of animals recently resting on the ground, traces of blood in the dark and will lead the hunter on the trail to the target. Note that dense vegetation, complex rocky terrain will not interfere with detection. The thermal imager ignores this interference and sees through it. Poor visibility in fog, snow, rain, and smoke will not interfere with successful target observation. We recommend that hunters pay attention to the protection of the case against impact and moisture, as well as lightweight and compactness. The optics of the instrument must be of sufficient level to ensure correct target identification.
Property protection
In addition to hunting, thermal imaging binoculars are indispensable for protecting property. Detecting the approach of a car or a person, even in the dark, under difficult weather conditions, at considerable distances is not a problem for thermal imaging binoculars.
Work in law enforcement and police
Thermal binoculars are indispensable in the fight against smuggling, drugs, poachers, and border trespassers. So, thermal imaging binoculars are a reliable partner of any professional responsible for public safety and compliance with the law.
Search and rescue operations
Binoculars are famous in all search and rescue services. They can easily find a person in the mountains, caught in a snowstorm, drowning in the water, lost in a dense forest. The search mustn't be stopped at nightfall. Sometimes the clock counts.
Application by firefighters in extinguishing fires and rescuing people
Firefighters love IR binoculars for detecting people in smoke and behind thin walls. It also became possible to see the hottest ignition points hidden behind walls and ceilings. Firefighters save time and focus on eliminating a source of ignition that is difficult to identify visually. It also became possible to measure the temperature of the fire site and make an unambiguous decision to terminate rescue operations.
Detection of wild animals near rural households and farmland
In rural settings, thermal binoculars can help spot intruders such as wild animals raiding farmland and hunting pets. You won't have to guess about strange backyard noises, and you will know for sure the source of the night's turmoil. And you will be able to react promptly and take action.
If you are free-range animal husbandry, then you need to get thermal imaging binoculars. Searching for missing animals and observing them will be much easier.
Detection of voids in the walls of houses
Completely unexpected use of thermal imaging binoculars for homeowners is detecting animal burrows in the walls of houses. Sometimes wasps, termites, or rats spoil the walls with passages, and it is impossible to pinpoint the damage location without opening the border. The binoculars will pinpoint the exact location and draw a detailed map of the paths in the wall. By repairing a fragment, instead of a whole wall, you will significantly save on repairs. This will work in the event of pipe leaks, depressurization of air conditioning systems, and detection of overvoltage points in power grids. If the thermal sensor is sensitive and the binoculars can work at short distances, then this may work.
Application for navigation and water rescue
Binoculars are equally popular with anglers and ship owners, regardless of the ship's displacement. Navigation is greatly simplified even on the darkest nights and with reflections of the sun reflecting off the water's surface. It also allows you to detect a crew member overboard or dropped equipment. Fans of rafting and other water hobbies are sure to take IR binoculars with them to ensure safety. For water sports and sailing, it is advisable to consider the degree of protection against water.
For exploring caves and caverns
IR binoculars are especially popular with cavers and diggers. Seeing in complete darkness is as good as in the daytime — it's pretty accurate. And to have a pleasant bonus in the form of detecting hidden voids and spaces in walls and ceilings is doubly satisfying.
Observation of animals in nature reserves and national parks
Wildlife enthusiasts, hikers, national park staff, rangers, bird watchers, and naturalists use thermal binoculars to observe, record events, transmit data, and exchange information. It will not be superfluous to remind you of the observance of personal safety in the wild. We are deprived of the opportunity to see predatory animals hidden in the night or dense vegetation. The thermal imager gives us this opportunity and makes our adventures safe.
We are ensuring safety in the wild, recording events, transferring information
Regardless of the scale of the event, whether it is family camping or severe scientific research, the safety of people in the wild is a top priority for thermal imaging binoculars. The second most important task is capturing events with a timely response. The third is the recording of events in the media and the transfer of information. Agree. It's nice to take a picture of a group of deer at dusk, observe their life and have the opportunity to share it with loved ones. And after returning home, relive pleasant moments again, watching the recording on your home computer.
To summarize all of the above, we can say that choosing thermal imaging binoculars is a severe undertaking. It must be approached rationally, taking into account the operating conditions and tasks. It will not be superfluous to collect all the information about the model you like and check it personally by visiting a store or renting it for a few days. Thermal imaging binoculars are not a budget investment, but the features and enjoyment are worth every dollar spent.