Are we looking for a thermal monocular for hunting, work, or property protection? Sit back, grab a hot cup of coffee, and we'll teach you how to choose the best options from the bottomless market for thermal imaging devices. Our article will point out the main characteristics of thermal imaging monocular that you should consider before buying. Together with you, we will consider the most optimal models of IR monocular in terms of functionality and budget. So, let's begin.
Best Thermal Monocular – Find Yours
1
AGM ASP TM35-640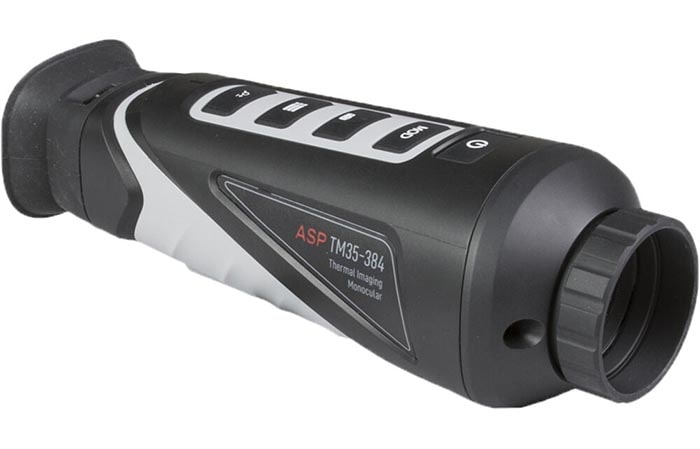 The ASP TM35-640 is one of the most advanced handheld thermal imaging monocular on the market. The sensitive 640 × 512 detector captures crisp, detailed images of rain, snow, fog, and smoke. And its OLED display, with a very high resolution of 1024 × 768, 17 microns, gives excellent clear pictures and videos even in the most severe cold or hot weather. The 35mm lens and 17.7 ° x 14.2 ° wide angle of view allow you to capture the entire scene. Optical zoom 1.4 times and digital 1-8X gives excellent detail of the object of observation. A 50Hz refresh rate allows you to track your online activity and naturally capture your movements, even while driving or walking. After installing the application on the phone, ASP TM35-640 takes pictures and records video via a wireless Wi-Fi network for 5 hours of continuous operation. 16 GB of internal memory allows you to store videos on board. The monocular has a good detection range – 3452 yards for cars, 1125 yards for humans. It measures 7.9 x 2.9 x 2.6 inches. It weighs 16.9 ounces, making it easy to fit in your bag, backpack, or strap. 4 color palettes, rangefinder, three types of FFC correction, hottest spot mode, IP67 protection, 3-year warranty give additional pleasant bonuses. And imagine that all of this treasure has a very fair price of less than $ 3400. ASP TM35-640 will be useful for law enforcement, search and rescue expeditions, hikers, wildlife enthusiasts, hunters, athletes, fishers, and yachters.
2
TAIPAN TM10-256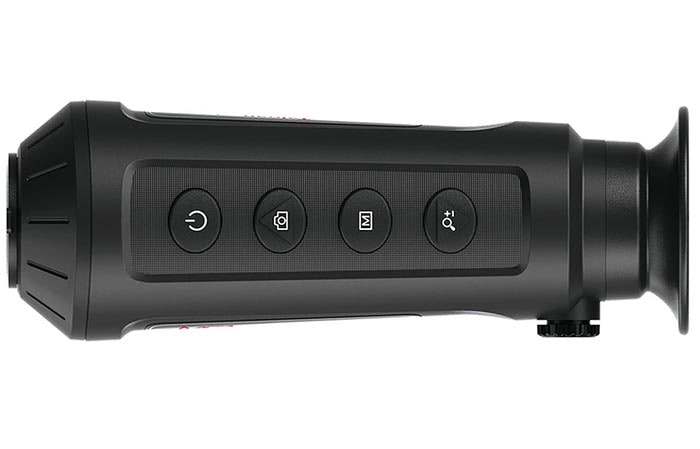 If you are looking for a reliable, lightweight, compact monocular with good performance that does not cost an arm and a leg, then the TAIPAN TM10-256 is the right solution. It is equipped with a highly sensitive 256×192 IR detector with 12μm pixel spacing and 18.00 ° × 13.55 ° viewing angle, allowing it to provide detailed images on the darkest nights. Its LCOS screen, with a resolution of 720 × 540, provides high image quality and enables the device to be used in a wide temperature range from -4 to 131 ° F. The refresh rate of 50 Hz gives natural movement on the screen, even while the observer is moving, and allows for timely responses to events. The detection range is 458 m. If desired, you can enlarge the image in 1x-8x. The monocular does this smoothly, allowing you to maintain eye contact with the target. It supports the functions of tracking the target with the highest temperature, measuring distance, Wi-Fi hotspots, a built-in 8GB memory card, and four color palettes. Flat field correction can be done automatically, manually, or externally, and there is a silent mode to hide your presence. Its compact size of 6.23 x 2.4 x 2.2 inches and its lightweight of 0.57 lbs. make it one of the most comfortable handheld monoculars. Battery life of 8 hours will cover most of all usage scenarios. The case is 4.9ft drop and water-resistant to IP67. With this monocular, it is easy to conduct covert surveillance, take pictures and videos, share them wirelessly and save what you see for viewing on your computer. TAIPAN TM10-256 enjoys well-deserved popularity among law enforcement agencies, hunters, travelers, wildlife enthusiasts, and athletes. And all this luxury costs less than $ 1000.
3
Pulsar Helion XP Thermal Monocular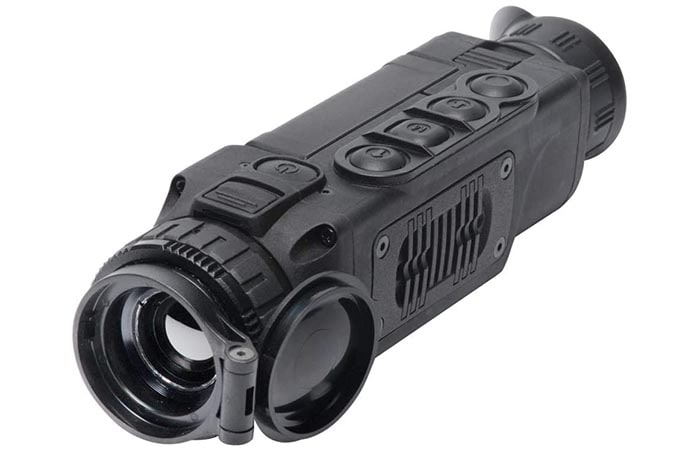 The Pulsar Helion XP costs less than $ 5000 and has impressive hardware. Let's see what we get for this price. It is equipped with a sensitive 640×480, 17-micron sensor, which helps to see through fog, rain, and impenetrable night. The F50 / 1.0 lens allows target detection at a distance of 1800m. The monocular is equipped with a particular program for rendering image details. Image Detail Boost enables detecting targets whose temperature is close to the temperature of the general background. This feature will be helpful to everyone, from law enforcement agencies to hunters. The AMOLED display with an HD resolution of 1024×768 gives a high image contrast and can be used on the coldest days. Magnification from 2.5x to 20x can go in 2x steps or smoothly, providing a comfortable object approximation. An impressive 16GB of memory gives you enough meta for hundreds of photos and videos. Wi-Fi module allows you to share footage or download it to iOS and Android devices. Eight hours of continuous use will be enough for any mission, and a replaceable battery allows you to extend the usage time as long as necessary. A frame refresh rate of 50 Hz will enable you to get an optimal movement-image in both static and mobile observation. Among the pleasant additions, we note a rangefinder, powered by an external source – power bank, Display Off-function with a dark screen for covert observation, a "frame in frame" function. The magnesium heavy-duty and lightweight body has a compact size and is protected from water, dust according to the IP67 standard. Among the shortcomings, we note that this gadget is incompatible with a helmet or rail mount. This handheld monocular will be a great companion for professionals of all kinds of activities and hobbies which need excellent quality and additional functions of thermal imaging monocular.
4
FLIR LS-X 60 Hz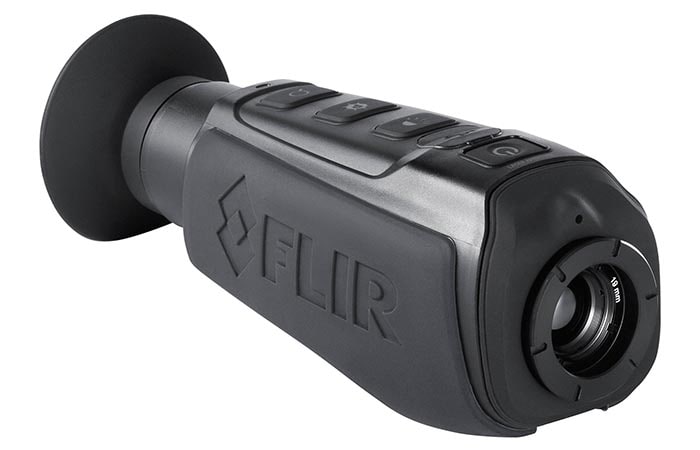 The FLIR LS-X comes in several models, priced from $ 2000-5000. These models are minimalist in design, ready to go in 1.5 seconds, and prepared to detect any object up to 623 yards away. The 640 x 512 / 9Hz matrix gives good image quality. The frame rate is set to a minimum and may have some motion lag and is, therefore, best used from a fixed vantage point. Electronic zoom from 2x – 8x allows you to identify the target correctly. The heat detector 336×256 allows observation in all weather conditions and provides a good rendering of all details. The FLIR LS-X measures 6.7 x 2.3 x 2.4 inches, weighs 12 ounces, and is a 1m drop protected and sealed from water and steam with an IP67 rating. Battery life is 5 hours. The battery is built-in, can be powered through a compatible port with the car dashboard for recharging. The monocular has three polarity modes, laser pointer, automatic calibration. This device will be helpful for short observation missions from static observation platforms. Suitable for rescue and search activities, property protection for the needs of the security sector, athletes, anglers, travelers.
5
ATN OTS-HD 384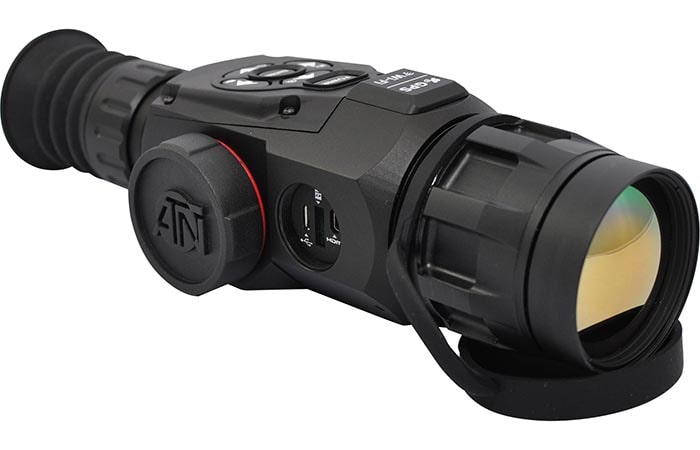 There are several models in the ATN OTS-HD lineup. Today we will look at the basic configuration. This monocular is equipped with a heat detector with 384×288 resolution and a 19mm lens. This is quite enough for non-professional users. We should note that the unit is somewhat heavy at 1.5 pounds and measures 7 "x 3" x 3 ". But its weight is compensated by additional features carefully proposed by the manufacturer. HD display, GPS, Wi-Fi, Bluetooth, 3D gyroscope, 3D accelerometer, electronic barometer, and compass are pretty good for the budget segment of thermal monocular. Eight hours of trouble-free operation, 683 yards detection range make it desirable for hikers, bird watchers, camping, hunting, fishing, and outdoor sports. The price hovers around $ 3000. If you take the time to learn all the features of the ATN OTS-HD 384, then in the field, you will have a distinct advantage.
6
Leupold LTO Tracker 2 HD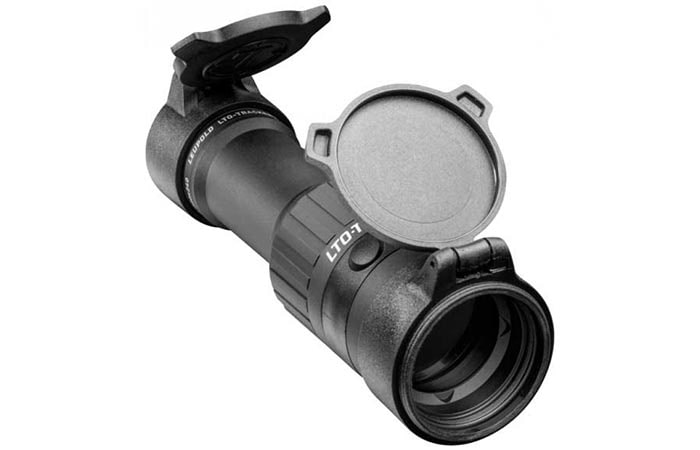 This monocular resembles a small flashlight, but its external simplicity is deceiving. There are a lot of nice things hidden under the modest and sturdy one lb. aluminum shell. First of all, we note the protection of the eyepiece – Gorilla Glass. This small monocular measuring 5.5 ″ × 1.75 ″ × 1.75 ″ has some of the best water resistance available. The display has a low resolution of 390×390 but gives a reasonably clear image. The 6x zoom is enough to get a closer look at the subject. Eight color palettes will make it possible to customize the image even for people with color perception problems. You might be tempted to use this baby as a sight, but alas, it is not meant to be. A frame refresh rate of 25 Hz gives enough time for the observer to react in time. The viewing angle of 18 degrees allows you to cover relatively large areas. The 320 * 420 infrared sensor can detect a target up to 750 yards away, so you don't need to get too close to a potentially dangerous or fearful object. Beacon mode allows you to calibrate thermal signatures when the background and subject are comparable to temperature. The widest temperature ranges of use and the 2-year warranty are also quite good for a miniature monocular. Among the shortcomings of this model, we note the low battery life of about 3 hours and slightly blurred edges of the target at more than 3x magnification. Leupold LTO Tracker 2 HD is recommended for travelers, hunters, anglers, bird watchers.
7
Trijicon Electro Optics IR Patrol Thermal Monocular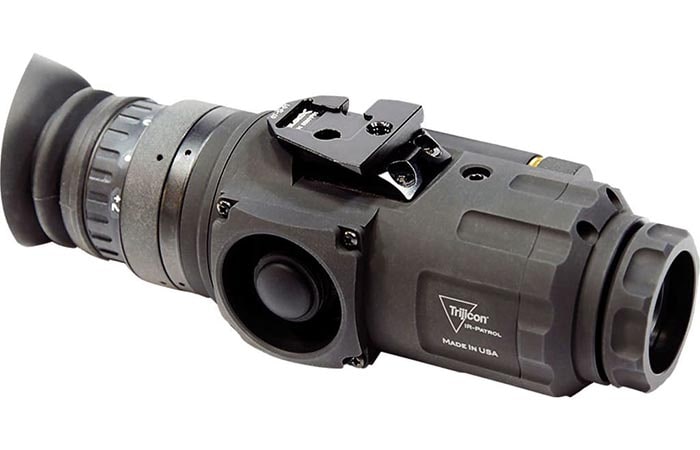 This monocular is at the bottom of the expensive and quality Trijicon optics. We were impressed by the wide temperature range of use from -40 ° F to 131 ° F. The 5.95 "x 2" x 2.95 "body is made from aircraft-grade aluminum, weighs 1 pound, and is filled with nitrogen—water-resistant up to a meter. The 19 mm lens has a 640×480 12-micron sensor, which is relatively consistent with the standard. Monochrome digital OLED display with 640×480 resolution, 30 Hz refresh rate. E-Zoom gives a magnification of 1-8x. MaxPol technology, together with digital focus control, helps to improve image quality. Six color modes, diopter adjustment, user-friendly interface provide additional convenience. Among the shortcomings, we note a short work period of 1.5-3 hours, the impossibility of attaching it to a helmet or a weapon. And not at all a budget price of about $ 6,000.
Essential Features of thermal Monoculars
Thermal sensor resolution
The standard below, which we do not recommend dropping, is 640×480. Anything higher will require a thicker wallet. If a detailed image is essential to you, then this step is worth taking. Anything below this limit can be used for everyday tasks. You don't always have to buy a Boeing to buy a roll of bread.
Screen resolution
The higher these numbers are, the better, clearer, and more contrasting the image on the monocular screen. Usually, this value should be slightly higher than the resolution of the temperature sensor. However, as the resolution increases, the price will rise. Strive for the best price/resolution ratio.
Screen refresh rate
The border on which it is worth considering monocular lies in the region of 30 Hz. This value will be good for static observation. When observing a vehicle or walking on foot, a 50-60 Hz frequency is desirable. Then the moving image will be smooth and will not lag. If you have a non-critical task, for example, to detect the arrival of wild pigs near your home, then you can get by with lower refresh rates from 9-30 Hz.
Detection range
It all depends on your needs. Monocular are available for close, medium, and very distant detection. In addition, there are models with versatile detection characteristics from 5 m to infinity. As you may have guessed, anything more technologically advanced is more expensive.
Increase
There is an optical and digital zoom. Sometimes both technologies are used in one device. They affect the ability to zoom in and view the target in detail. Note that the large zoom is justified only in a decent thermal sensor and a good screen resolution. Otherwise, we will get blurry outlines of the target when trying to zoom in on the target. Note that the zoom can be smooth and jerky. For example, the target is immediately increased by four times. There is a risk of losing the target with a sudden increase. Smooth zoom is much more comfortable.
Monocular operating time without recharging
Everything is individual here. Not everyone needs to sit in ambush for hours, somewhere far from civilization and recharging. Approach this question rationally. Sometimes a set of additional batteries or an external battery will cost less than an expensive monocular. But, if this parameter is essential for you, then pay attention to replaceable batteries and charging from an external battery during the operation of the device, as well as on the model of batteries with increased capacity.
Temperature conditions
Focus on your needs. Be sure to check this indicator before buying. Please note that freezing temperatures will drain batteries quickly. Some types of screens are specially designed for low temperatures. For example, amoled, OLED displays tolerate cold very well.
Additional functions.
The presence of Wi-Fi, a rangefinder, a built-in memory card, support for streaming video, a compass, an image stabilizer is undoubtedly very convenient. But all these chips cost extra money, and everyone decides individually how much he needs them.
Strength, comfort of use, and durability
We turn our attention to a rugged body made of lightweight composite materials or aircraft-grade aluminum. It mustn't slip. It's great if it has passed the 1-1.5m drop test and has IP67 protection. Weight and compact size will affect how long you can monitor continuously. Helmet mount options are worth considering for professionals.
How to choose the best thermal monocular
Everything is very individual here. It all depends on your specific conditions and tasks, as well as your budget. The most expensive model is not always the best choice. Before you buy, collect all the information available to you. Test the monocular in a store, rent it and see how comfortable you are. Wait until the flurry of your emotions settles and decide to buy with a cold head. A thermal monocular is a serious investment, and we recommend purchasing only from trusted brands with a solid reputation and good warranty.
Whatever your choice, we are sure that your purchase will justify every cent spent and will only bring positive emotions. We hope that the monocular will ensure your safety, solve current problems and leave behind a lot of pleasant memories on video and photo materials.