Imagine that you are about to see something beautiful, but it is not visible because of the darkness. To reduce the chances of disappointment, night-vision binoculars were invented. For sure, these devices have a wide range of use; sometimes, they are called "the second eyes." Indeed, binoculars have a lot in common with our ability to see. By the way, to develop the motive, let's remember a parable in which the king described his wife to the crowd in the most melodious words. He almost sang songs about her unique beauty. But how surprised the listeners were when they saw that his beloved was just an ordinary woman.
You may be wondering how night-vision binoculars and parabole are connected? They both make us wonder whether beauty is in the eye of the beholder, or there are generally accepted standards of someone's quality, whether it's a person or an item? Let's reveal it together. The first step is to get acquainted with the principle of night vision devices and move forward to the variety of the most successful binoculars in 2021!
If you are a sailor, hunter, stargazer, or traveler, you probably often find yourself in situations of insufficient visibility. To keep up with the times means to choose a modern, durable, and high-quality night vision binocular that will serve you for multiple years. In addition to binoculars, there are also other types of night-vision devices. We suggest you look at each type's features to understand better what kind of device will satisfy your needs.
Night-vision goggles
When comparing night vision goggles with binoculars& monoculars, it is worth saying that googles are the most comfortable variant. Although the difference between goggles and binoculars is not significant, there are some nuances that you should be aware of. Night-vision goggles obtained a rank of hand-free devices thanks to the head strap, on which they can be mounted. One more feature that makes goggles a game-winning device is a 1x magnification that allows users to use the equipment in the most extreme circumstances, such as running or flying in a helicopter.
Night-vision monoculars
Today there are many diverse monoculars, ranging from price and color to mount and zoom functions. The peculiarity of the monocular is that it only needs to be worn on one eye. The lightweight and small size of the device make it a loyal ally in any situation.
Night vision binoculars
Compared to goggles, binoculars have a narrower field of view, thus higher magnification. Infrared or thermal imaging technology makes binoculars the best device to see clearly in the dark. Whether you plan active rest or hunting, this type of optics gives excellent clarity that provides maximum safety.
We've gathered for you the best night-vision binoculars in 2021 under $2000. Here is our list:
1
AGM FOXBAT-5 NL3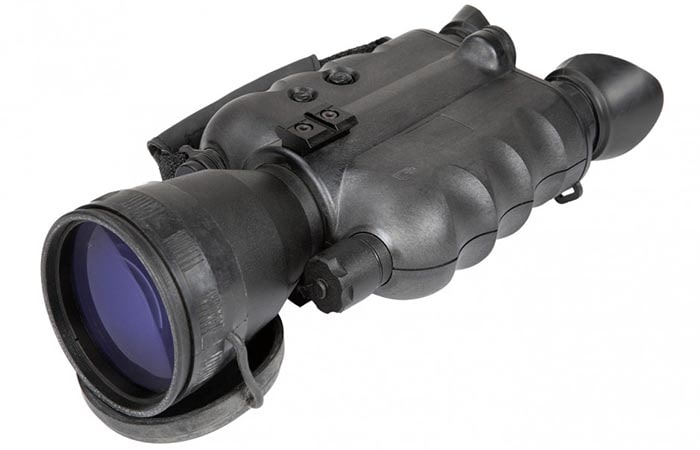 AGM Foxbat binocular is a modern, high-quality, and budget device for night and day use. So why is this optics is the best option for outdoor enthusiasts? Besides its stylish design and a two-year warranty, AGM Foxbat is tripod mountable that provides comfort conditions giving the possibility to focus on the target. Digital controls and a proximity sensor make the binocular simple to use, even for beginners. Mighty batteries ensure the long-term operation of the device, while a dual optical axis will help you enjoy long viewing sessions.
Flawlessly clear night vision and 5X magnification are the main characteristics that outdoor lovers need. AGM Foxbat is an ideal variant because of its water and fog resistance features if you plan to use your binocular for hunting in extreme conditions. Considering powerful technical features and loyal prices, this binocular, for sure, is one of the best on the market! Carrying case, lithium battery, long-range infrared illuminator, wrist and neck strap included in the package.
2
ATN Binox 4K 4-16x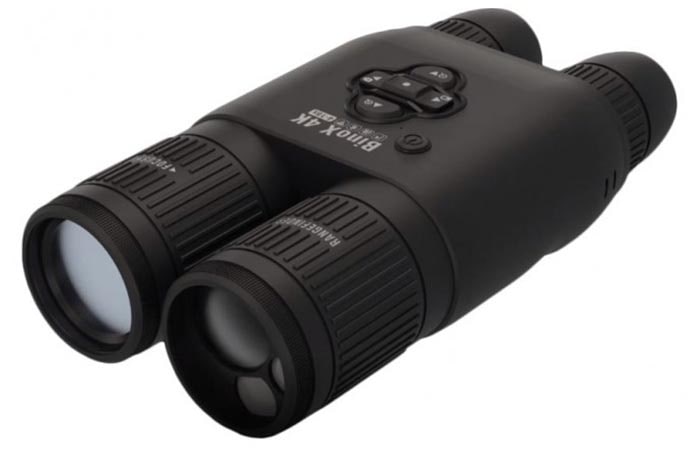 ATN Binox 4K 4-16x are effective and hi-tech devices that outdoor professionals and beginners can easily use. This optic provides 4K resolution images and has a laser rangefinder to make your hunting sessions maximum comfortable and safe. Moreover, you can effortlessly share your HD results with the nearest and dearest with its video recording feature.
If you are familiar with situations when binocular's batteries die in the most crucial moment, now you have 0 reasons to worry because, with Binox 4K 4-16x, you can enjoy the process for 18 hours. Thanks to its built-in gyroscope and compass, you can quickly detect a tilt angle and obtain clear space orientation.
While the advantages are clear, let's see some reasons why these devices need some improvement. The thing is that ATN Binox 4K 4-16x are not waterproofed, enabling users to enjoy the optics in foggy or rainy weather. Nevertheless, these devices have already proven their quality, that's why we can highly recommend them to everybody who requires to spend a loyal sum and get the maximum result! Last but not least, you can notice that your digital zoom got blurry, but only in case you use it at the highest magnifications.
3
Pulsar Edge GS Super 1+ 2.7×50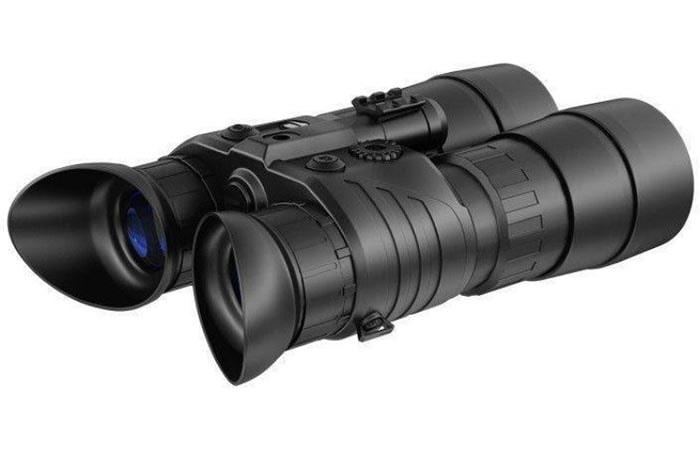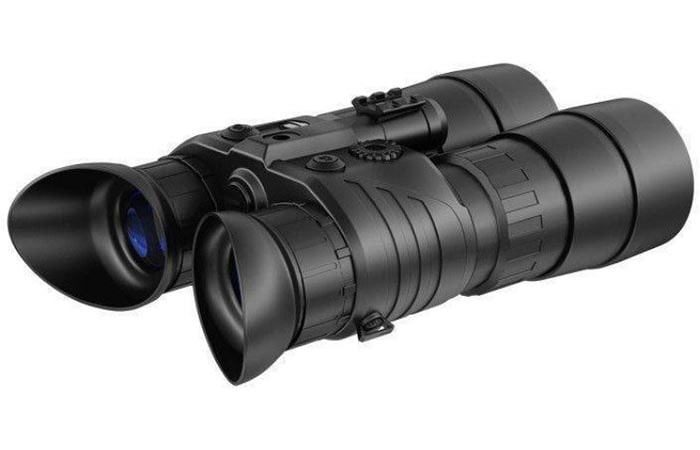 No matter in what area you strive to become professional, expert equipment is what you need. The same can be said for hunters and astrologers who, together with the purchase of quality binoculars, desire to rediscover all the magic of the night. The Pulsar Edge GS Super 1+ is a long-lasting and reliable night-vision binocular that сorresponds to its name. Now let's see what makes this binocular so modern and unique?
The construction of the binoculars is attractive and durable because it is made out of polymer and metal. With 2.7X magnification, this binocular is suitable for hunting at night. However, it would help if you searched for other variants for daytime sessions that take longer distances.
Looking through the Pulsar Edge GS Super 1+ 2.7×50, you'll enjoy a clear picture because of the full image Intensifier Tubes and infrared illuminator. Thanks to the 50mm objective lens, the user will get a wide-angle shot and have a detection range of 250 meters. We think that stargazers and wilderness explorers that own this binocular are real lucky beggars!
4
ATN BinoX-HD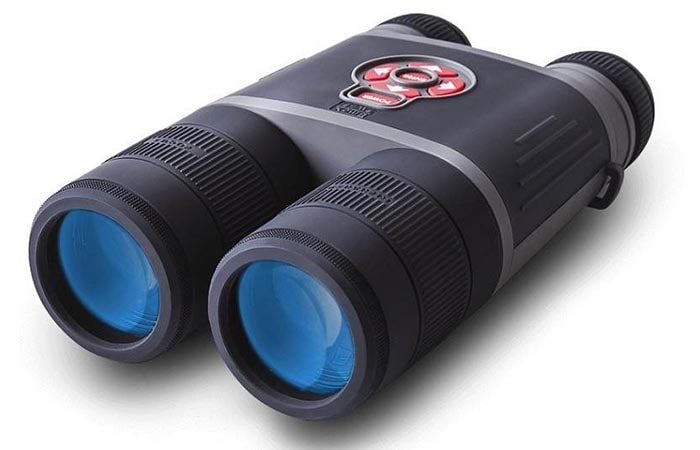 To have a reliable pair of "second eyes" is crucial if you are planning to achieve excellent results in hunting. ATN BinoX-HD can become an irreplaceable ally during the night wildlife session. What makes this binocular a must-have is a perfect magnification that ranges from 4 to 16 power giving you a clear close picture. That's why ATN BinoX-HD is the best solution for long-range observation.
In addition, if you want to capture your hunting sessions, the ATN Binox-HD makes it easy for you. These binoculars are a great example of how technology does not stand still, making life easier for users. You can now connect your binoculars to other devices, streaming images without tangling up in tons of wires.
So, there is no better way to express your love for nature except choosing ATN BinoX-HD! A unique feature that enables the switch between green, black, and white night vision makes this device universal for beginners and professionals. If you are looking for optics to feel confident in extreme situations, ATN BinoX-HD is an exceptional choice because of its built-in compass and GPS navigator.
5
Aurosports 10×25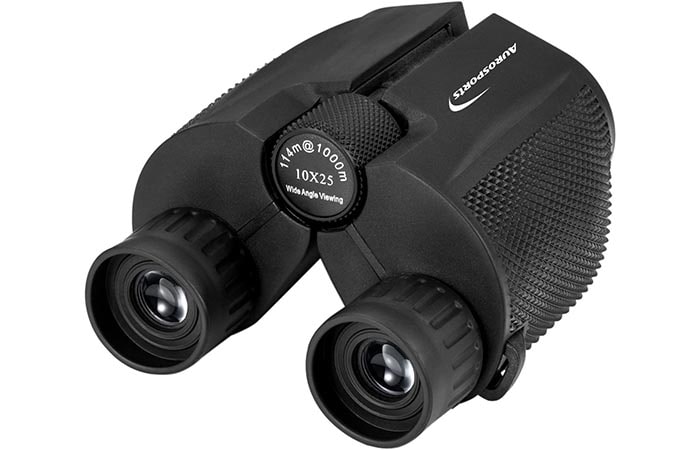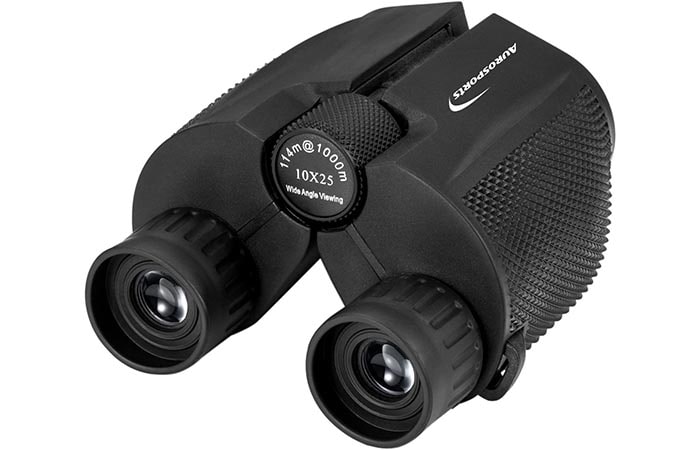 Aurosports 10×25, for an extended period, had been known by hunters and nature lovers as one of the most affordable binoculars on the market. In the case of this device, the economical price does not affect the quality at all. As quality depends on many factors, let's take a closer look at each of them.
First of all, this binocular is especially good for low-light conditions because of its feature to amplify light. In this optics, every detail whispers about the quality, from flawless lenses that guarantee super clear images and ending with a rubber grip that helps you hold the device firmly in your hand so that you can not be distracted by minor inconveniences and can enjoy wildlife to the fullest.
The device's compactness makes it especially effective in those conditions in which other binoculars gather dust at the shelves, for example, at concerts or during sea expeditions. These binoculars will allow you to observe a target from 1000 yards and magnify the image up to 10 times.
Compared to the binoculars above, this model has one significant drawback: you cannot see in absolute darkness due to the lack of infrared illumination. Also, users highlight not high-quality plastic build.
Returning to the main characteristic of this binocular, cheap price gives the ability to safely use it without the fear that something will happen to the device, so we recommend it, first of all, to all the newcomers!
What Are Night Vision Binoculars Good For?
The rich history of night-vision binoculars is hard to underestimate. The first binoculars were invented in 1935 so that the military could carry out particular operations in the most challenging conditions at night. Generations improved from 1 up to 4, changing the characteristics of the image intensifier tube.
Years passed, World Wars ended, and binoculars became more accessible to ordinary users. Today the field of application of binoculars is quite diverse. The ultimate goal is to observe objects in the dark under any lighting conditions. Binoculars are most often used to protect territories, track down wild animals in the register, and sea navigation. Also, modern binoculars have the function of photo and video recording so that, if you meet a UFO on your return home, then show the evidence to your friends. Thanks to wireless technology, you can also broadcast the image to your TV or laptop screen. However, his function is not present in every model.
What are the indicators that the development of night vision technology of binoculars is moving forward? Everything is simple, the picture has become more apparent, the device is lighter, and the details are made of high-quality materials.
The price range varies. For example, for $500, you can buy a reliable option made from not the best materials. Suitable using your device for $500- $2000, you can enjoy optics that behave flawlessly in low light conditions and serve you for an extended period. Such optics are suitable for beginners and those who don't need to care about the binocular state.
Now let's look at the main parameters that you should pay attention to when choosing night-vision binocular. When talking about high-quality optics, magnification is one of the essential features that help to extend the user's vision by providing a clear and close picture. This innovation is responsible for how clear you can see objects that are far away.
One more vital parameter is an excellent quality of an image. High image quality is only for professional and high-quality binoculars because what picture you see affects your night-sessions results. Sometimes you can get lost when choosing which model to buy. In such cases, try to focus on resolution indicators. The higher is resolution, the better is the image. The binocular you want to buy should have reliable IR illuminators to see as a pro at night. Thanks to up-to-date technology, infra-red illuminators amplify surroundings because they use special light from the invisible portion of the light spectrum.
Last but not least, you don't know every weather condition that you'll use your optics, but we guarantee that it won't be dry every time, so water resistance is a must-have feature for your future device if you want to last for a prolonged time.
Returning to the parable, we emphasize that every person has their subjective point of view not only on what beauty is but what device to use to reveal this beauty through high-quality and natural pictures in the dark.
As in the parable, each is the king of our lives, choosing where to look and what to see. When choosing binoculars for someone, magnification or water-resistance are the main criteria. While for others, it is essential to use the optics on the go or to have a lightweight device that can be carried in a pocket. Fortunately, modern technologies have created a set of quality binoculars at loyal prices so that all nature lovers can achieve them regardless of the situation.
We hope this article helped you learn about the characteristics of each of the above binoculars and decide which one to use to create the desired picture in your modern "second eyes." Whether it's normal light conditions or total darkness, you can be confident that you won't confuse the escaped from the kingdom's queen with a deer with an excellent binocular. Good luck!